What's the main difference?
All our products are manufactured entirely in our factory in Mallorca. Handcrafted shoes for which we use only the best materials available in the market, applying exceptional quality criteria in each and every one of the processes.

Our Main collection, on the one hand, covers a wide range of classic and contemporary footwear. Manufactured with the traditional Goodyear welted system, applying the highest standards that have allowed us to offer an exceptional product, competing with internationally renowned brands.

The Artista Collection, on the other hand, was born as a result of a long path of innovation, improvement and development, with the main objective of offering the features of a Bespoke model in a Ready To Wear shoe.

A new manufacturing process in which our customers find true works of craftsmanship made by the most skilled hands at a truly affordable price. Thus, the Artista collection includes a wide list of models made with elegant lines and a series of lasts that adapt to each model.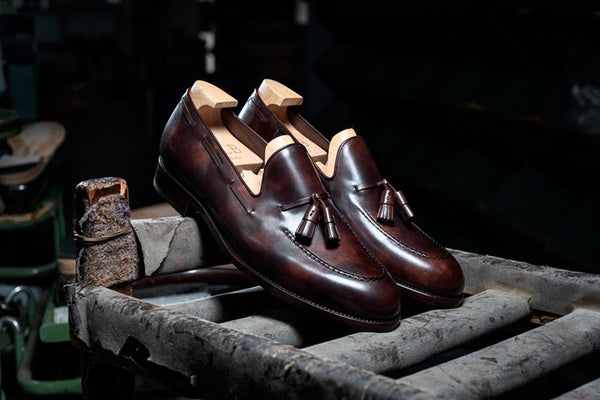 Main features of the Artista collection

 
Extremely slim beveled waistbands that accentuate the shape of the shoe. Made with stitching all the way to the heel, so the waistband is not just cemented or Blake stitched, as is often the case when narrower waistbands are manufactured.
The beveling of the waistband continues below the heel, which is normally only found on custom-made shoes. This creates a stronger, more natural looking waist. Genuine leather (not co board) heel gussets fit the feet in the best possible way.
A living material that can be re-molded if needed. Fitted heels that follow the natural lines of the shoes. Smoothly sanded sole, heel and waist edges. This not only looks fabulous, but makes the polishing process easier and keeps the edges in good condition.
Tight sole stitching of 8 SPI (stitches per inch), along with a well-balanced fudge wheel fit.  
"In terms of design, the Artista collection features more elaborate and intricate styles than the main collection"
Main vs Artista 
To sum up, while the Main collection continues to offer classic models of the highest quality, suitable for everyday wear, the Artista line is, in terms of design, more elaborate. Featuring styles and a more complex construction, with details such as fine brocades and leather finishes. Both form a catalog where luxury and refinement are present.


Looking for a pair of exceptional and durable shoes? Our commitment is to bring together the best features of custom-made shoes, offering a wide variety of options, at an affordable cost. Discover our collections and find the perfect pair for you.