About TLB Mallorca
TLB Mallorca was founded by Toni Llobera Barceló, a young artisan skilled in the art of creating handcrafted men's footwear and accessories, whose highly successful career is rooted in a tradition stretching back two generations.
His father and grandfather taught him to settle for nothing but the highest standards of excellence: the philosophy on which TLB Mallorca has been forged. Handcrafted men's footwear and accessories that guarantee products characterized by their outstanding quality and exclusivity.
Models that give classic elegance a contemporary twist or transform timeless classics into subtly restrained but far from conventional styles. Tradition and excellence come together in products that are always made entirely on the island of Majorca. Such are the foundations on which TLB Mallorca has been created, the essence of a new company characterized by the hallmarks of character and tradition.
Men's shoes

All our shoes are crafted using the traditional Goodyear system, which for over a century has been the preferred method for producing quality shoes, guaranteeing exclusive items of proven quality. Production is carried out by a team of skilled artisans who pay loving care and attention to each of the more than 150 processes.

Goodyear welted

Goodyear welting involves double stitching that joins the leather, insole and outer sole, ensuring far greater durability than conventional shoemaking methods.

This construction method also provides outstanding comfort and insulation thanks to the layer of natural cork positioned underneath the insole, which gradually moulds itself to adapt to the shape of each foot.

Leather Belts

To match our shoes we produce belts in the same high quality leathers that we produce our shoes in. All our belts are made at our workshop on Majorca using a traditional and highly unique system that has been passed down through the Llobera family, who have been making leather belts and accessories for leading name firms for more than 40 years.

Handcraft

Quality, a passion for detail and first class handcrafted production methods are the key elements that guarantee the superb standard of our products.

Each TLB leather belt is the result of a long and meticulous production process that is vital in order to guarantee perfection, right down to the smallest detail.
Craftsmanship
Toni Llobera and his highly experienced team share a work philosophy that is an energy-driven mix of inspiring verve and traditional practice. The foundations of the entire process are to be found in the indisputable nobility of the materials themselves.
Toni travels tirelessly to their points of origin, painstakingly selecting the calfskins used to create TLB Mallorca's product range. Skilful management of the design process and the long-standing experience and know-how of our master shoemakers in applying the most refined craftsmanship would be of no use at all if the materials used were anything but of the finest quality.
TLB Mallorca is driven by an unshakeable determination to rank among the very few brands capable of offering the most exclusive men's footwear and accessories on the international market. In order to achieve this, these masters of leather crafting take as long as necessary over each individual item, creating products that are both instantly recognisable and one-of-a-kind.
Production is based on a criterion of absolute quality for each item, and is far removed from the demands of meeting production targets.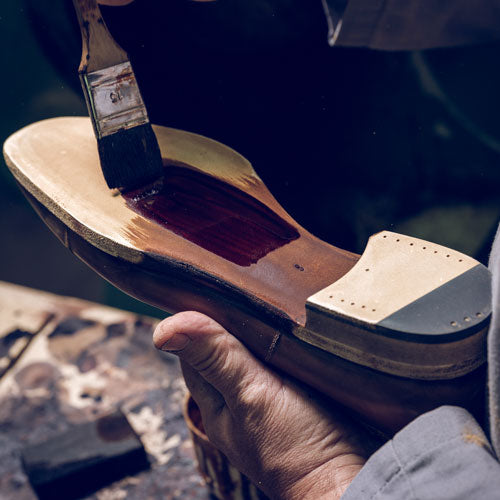 Creating quality, stylish men's shoes
We work to ensure the satisfaction of the most selective and demanding consumers, producing items characterised by handcrafted perfection and featuring unique finishes in the very finest materials. Quality is the principal hallmark of TLB Mallorca and its vision is to incorporate it into the products that will be sold throughout the world.
TLB Mallorca works exclusively with leather tanned using traditional methods, mainly calfskin obtained from the finest French and Italian tanneries.
Once the leather reaches our workshop, our strict quality controls require that each piece is closely inspected to ensure that both the quality and grain structure comply with our company's exacting standards. Any imperfections are marked and the leather is rejected for use in TLB Mallorca's production processes.