We are thrilled to announce our recent participation in one of the most exciting events of the year – The New York Super Trunk Show 2023! As one of the most talked-about brands in the industry, we couldn't be more proud to have been a part of this prestigious gathering.
On Saturday, October 14, the first edition of the New York Super Trunk Show took place. It was an open event for everyone with no registration needed. As a gold sponsor, we showcased our products along with more than 15 exhibitors from around the world and the first U.S. Championships of shoe shining and shoe patina.
The #Supertrunk
Organised by The Shoe Snob, Shoegazing and Kirby Allison, this was the perfect opportunity for those who wanted to get to know our products for the first time and learn more about our collection's features.

The New York Trunk Show took place at The Kosciuszko Foundation on 15 E 65th St on Manhattan, close to Central Park on Upper East Side. A haven for fashion enthusiasts and trendsetters, the prestigious location unfolded its magic. As attendees stepped into the venue, they were greeted by an ambiance that perfectly blended modern style with a touch of classical elegance.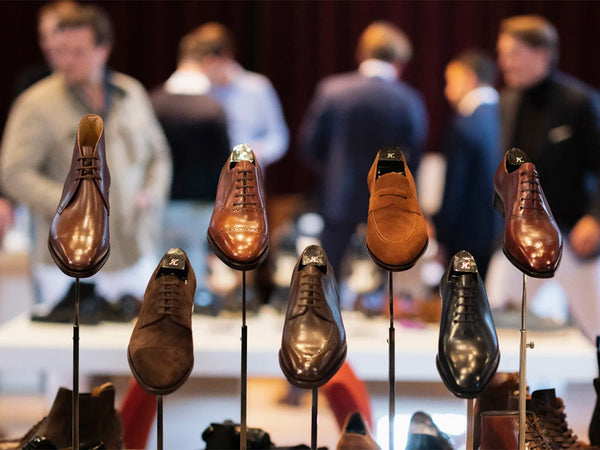 The Perfect Fit
One of the highlights of the Trunk Show is the chance to receive personalized fittings and consultations. Experienced professionals were on hand to ensure that each pair of shoes matches every attendant unique style and fits them perfectly.
Whether you're a seasoned shoe aficionado or just dipping your toes into the world of men's footwear, this event was an excellent opportunity to learn, explore, and appreciate the art of style.
F

ootwear brands
As one of the most talked about brands in the industry, we were proud to take part of this fantastic event, a memorable experience filled with fashion, fun, and fantastic finds.
The event brings together a select group of renowned footwear brands, each showcasing their latest collections, classic designs, and limited-edition pieces. It was a fantastic opportunity for the discerning gentleman to explore a world of sartorial possibilities.